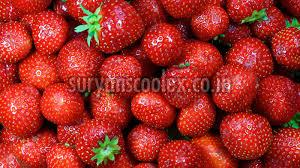 Strawberries are often called as world's most popular berries. It was originated in France. The little fruit is packed with several useful fiber and vitamins essential for your healthy body. It also offers a high level of anti-oxidants also known as polyphenols. The fruit not only tastes great but does not give you any fat, sodium, cholesterol, or calories. It indicates how it has emerged as a powerhouse of several useful vitamins. It has also emerged a great source of manganese and potassium. If you gulp down one serving of strawberries, you will receive more vitamin C than an orange.

Given below are some of the top benefits of this heart-shaped fruit which you should not ignore:

• Good for heart: As strawberries offer a good amount of antioxidants and polyphenols, it can significantly protect your heart from several ailments. It will strengthen your heart and keep you healthy. The presence of fiber and potassium in this fruit will prove useful in supporting your heart's health. According to a study, anthocyanin in strawberries helps in bringing down the risk of a type of heart stroke called myocardial infarction.

• Improves your immunity: People with poor immunity can rely on the fruit to enhance their immune system. A mere one serving of strawberries will provide you nearly 150 percent of your body's daily vitamin C needs. Vitamin C helps your body fight the common cold, flu, infections, etc. Vitamin C also proves useful in the form of an antioxidant and can neutralize free radicals that may harm the health DNA of your body.

• Cures arthritis and gout symptoms: Free radicals lead to inflammation and worsening of muscles and tissues of your body. The situation may cause joint issues as the joints do not function properly. It will lead to harmful toxins build up and may cause arthritis and gout. You can cope with this situation with ease if you eat strawberries every day. The availability of antioxidants in the fruit helps you detoxify the body and bring down inflammation.

• Protects you from cancer: As per the fresh strawberry exporters in India, this fruit can keep harmful diseases at bay and helps you lead a healthy and happy life. The availability of unique components found in the fruit known as flavonoids can help you fight cancer and oxidative stress. Flavonoids may include quercetin, kaempferol, anthocyanins and they put up a strong defensive line against the development of deadly diseases like cancer or tumors.

• Control blood sugar: As the healthy fruit is low on the glycemic index, it will not cause an extreme rise in blood sugar after you have a meal. Strawberries offer you dietary fiber which can regulate glucose as well. If you consume strawberries every day, you can effectively bring down the risk of diabetes. Even symptoms of your existing diabetes will also witness significant improvement as soon as you begin consuming it.

Therefore, we can conclude here that the fruit proves to be healthy and nutritious. If you want to lead a healthy and disease-free life, introduce it in your daily diet. You can buy top quality and fresh strawberries from the fresh strawberry suppliers in Lucknow.