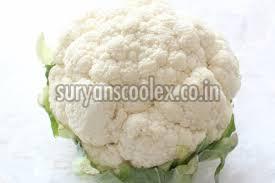 Enriched with nutrients, cauliflower is one of the most delicious and versatile vegetables. Baked, steamed, sauteed or stir-fried, cauliflower makes a perfect side dish in any form. Grown for year-round availability, fresh cauliflower has a neutral taste and mildly sweet flavour. When added in any recipe it does a wonderful job of absorbing all the flavour of other ingredients and spices used in the dish.

Known as a member of the cabbage family, cauliflower is usually white but these days the vegetable comes in many different colours, including green, orange and purple. Used widely for its creamy and slightly nutty flavour, white cauliflower is fairly cheap and available at most grocery stores.

Handy tips to pick choose quality cauliflowers:

Medium-sized, firm and tightly closed cauliflowers without small dark spots are the good ones. The cauliflower head should feel heavy in your hand for its size.

Heath benefits:

With only 4% of carbs and high fibre content, cauliflower is a wonderful choice for people who are on a low-calorie diet and aiming to lose weight. High in vitamins, antioxidants and minerals, cauliflower has an incredible list of health advantages to offer.

• It prevents constipation and boosts digestion
• It may reduce the risk of lung and colon cancer
• It boosts memory and learning.
• It improves bone health
• It lowers the risk of heart diseases and stroke
• It boosts the immune system
• It helps in delaying the ageing process

Offering a wide range of naturally cultivated, 100% certified fresh cauliflowers at highly competitive rates, the suppliers and exporters of this nutritious vegetable in Lucknow have ensured a strong dominance in the market across the country. Their offered range of cauliflower is widely endeared its freshness, great quality, mildly sweet-nutty taste, blemish-free florets, and reasonable rates. Following are some of the factors that the fresh cauliflower suppliers in Lucknow keep always keep in focus to be one of the prominent forerunners in this business.

• They source the cauliflowers from certified farmers across the state that organically grow the vegetable adhering to the set guidelines for quality.

• Their offered products are under constant vigil of our experienced agro experts to preserve the natural form, taste and freshness of cauliflowers.

• The cauliflowers are checked sternly by a team of agro experts on pre-defined parameters to ensure great quality and freshness before finally forwarding them to the marketplace.

• Recognized among the most reliable fresh cauliflower suppliers in India, they offer a comprehensive range of fresh cauliflower at highly competitive market price.

• To meet the varied demands of their wide patron base, they offer the cauliflowers in many customized industry-grade, moisture-proof packaging solutions to avoid the chances of insect infestation and wastage.

• The fresh cauliflower suppliers in India ensure safe and blazing-fast delivery of ordered the products.

• They always maintain transparency in all their transactions and direct all their activities to cater to the expectations of their customers.

• With the help of a wide distribution network, they can easily cater to the bulk requirements of fresh cauliflower in diverse specifications across the country.

Owing to its mild taste, versatility and nutritional properties, cauliflower is one of the most endeared vegetables in India.