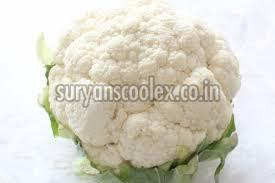 Cauliflower, this healthy vegetable is a supreme source of nutrients. It has unique compounds from plants which may actively participate in reducing risks for several diseases like cancer and heart diseases.

On an added note, fitness freaks can easily add this vegetable to their daily diet as it may help in losing weight. Numerous food preparations can be done with cauliflowers thus it is easy to add in menus. The city of Lucknow in India produces a maximum amount of cauliflower and every fresh cauliflower exporter in Lucknow is capable of maintaining all the quality standards for supplying their products to many parts of the country.

Why cauliflower is healthy?
You may have heard several good or bad things about cauliflower and most of them should be through someone's words. This article is going to discuss some scientifically proven health benefits offered by cauliflower.

1. Contains nutrients
Cauliflower has an excellent nutrition profile. It is low in calories but its vitamins content is higher. In fact, research results have stated that it contains all the desired minerals like folate, pantothenic acid, potassium, manganese, magnesium, and phosphorus, and vitamins like C, K, and B6.

2. Rich in fiber
Fiber is truly beneficial for overall health, and cauliflower is a good source of fiber. What fiber contents do is to feed the good bacteria in the gut, and this helps in reducing inflammation and also benefits the digestive system.

3. Good source of antioxidants
This vegetable is a tremendous source of antioxidants that protect body cells from inflammation and harmful free radicals. As it is a cruciferous vegetable, it remains high in isothiocyanates and glucosinolates, which are two types of antioxidants and are responsible for slowing down the growth of cancer cells. It also has flavonoid and carotenoid, which also have anti-cancer properties.

4. Aids in weight loss
As per the fresh cauliflower suppliers in India, several properties of it justify it as a weight loss agent. It is low in calories and is generally served with low-calorie substitutes like flour and rice. It promotes a feeling of fullness in the gut which stops people from eating more. Approximately 90% of cauliflower is made up of water, and thus helps in weight control!

5. High in choline
Most of the people remain deficient in choline, and cauliflower has the maximum of it. It has several major roles in the body such as maintains cell integrity, supports metabolism, synthesizes DNA, involves in neurotransmitter production and brain development, prevents cholesterol accumulation in the liver, and many more.

6. Rich in sulforaphane
Sulforaphane is an antioxidant which is super helpful in defeating cancer development as it inhibits cancer growing enzymes. It actively fights prostate and colon cancer. Even it can lower high BP as well.

If you want to send this vegetable to any dealer outside the country, contact the reputed fresh cauliflower exporters in Lucknow, as they are experienced and certificate holders in delivering fresh cauliflower products in and outside the country.