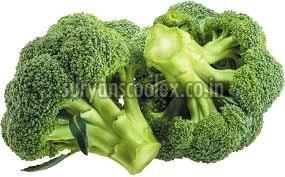 Broccoli is known to be a hearty and tasty green vegetable that can be eaten raw or cooked. Loaded with dozens of vitamins and antioxidants broccoli is truly a nutritional powerhouse that belongs to the cruciferous family along with cauliflower, turnip, cabbage and kale etc. With a large flower head that is usually green in colour and a small stem, broccoli mimics a mini tree-like structure. The small florets of broccoli are soft in texture and more flavourful as compared to the stems, The florets can be grated, chopped or used whole in recipes like pasta, noodles, pizza etc. Whether you chop them to make a savoury tart, simply stir fry them in olive oil or bake it with a little seasoning, broccoli always tastes super delicious.
Why eating broccoli is good for health?
Packed with a load of nutrients and bioactive compounds, broccoli offers an incredible list of health benefits. Labelled as a superfood, fresh broccoli is a good source of fibre, protein, and vitamins like C, A, K, B along with minerals. As per studies, daily consumption of cruciferous vegetables like broccoli could reduce the risk of cardiovascular disease.
• It can lower the risk of cancer; particularly lung and colon cancer.
• It improves bone health and supports healthy brain function
• It may aid blood sugar control in diabetics
• It boosts digestion and can prevent constipation
• Eating broccoli is linked to a decreased risk of age-related eye disorders, such as cataract.
• It lowers the risk of developing some chronic diseases like diabetes, hypertension and certain gastrointestinal diseases.
Offering a broad range of 100% organic and fresh broccoli at highly reasonable rates, the exporters in the country have ensured a strong dominance in the fruit and vegetable market across the globe. With a firm commitment to quality, the suppliers and exporters are engaged in offering a wide range of broccoli that is highly demanded by their patrons across the country for their freshness, vibrant green colour, longer shelf life and great flavour. Following are some of the important factors that the fresh broccoli suppliers in India always keep in mind to maintain their dominance in this industry across the global market.
• They source their offered range of broccoli from reputed farmers who grow them organically under the controlled conditions and without using harmful pesticides and chemicals.
• To meet the varied demands of their wide patron base, they offer these products in many customized high-grade, moisture-proof packaging solutions to retain the quality and freshness.
• The fresh organic broccoli exporters always ensure to deliver the item safely and that too within the stipulated time frame.