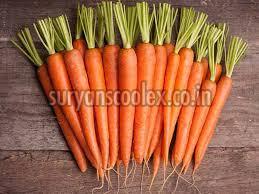 Everyone is familiar with the orange carrots into their dishes. This root vegetable makes a flawless health food. From kids to elder people, everyone is a fan of its tasty, crunchy and sweet taste. Even people love to munch on raw carrots by pilling it only. it makes a good source for fibre, beta carotene, antioxidants, potassium and vitamin K1.

Though most of people love bites of carrots but they are not aware of its immense health benefits. But you all should do. Carrots are the best friend of the health-watchers. It supports weight loss, contains lower level of cholesterol and improves eye health.

Though orange is the common sight for carrots but it is also available in red, yellow, purple, white and black colours. Among these, orange carrots include maximum beta carotene antioxidant which gets converted into vitamin A into your stomach.

Nutrition facts of carrots: How it benefits your health?

• The water content of carrots varies between 86 and 95%.

• The edible portion of the carrots includes only 10% carbohydrates.

• It is less in fat (0.2%)

• It contains less calories (41%)

• It contains fibre (2.8%). Pectin is the major soluble fibre present in carrots. It helps in lowering blood sugar. It feeds the gut-friendly bacteria in your body. It also helps in lowering bad cholesterol. Among the insoluble fibre elements, there are lignin, hemicellulose and cellulose. These help in lowering constipation and promoting bowel movements.

• It contains sugar and starch like glucose and sucrose. Thus, it makes a good source of fibre. It is low in glycemic index (GI) and thus super healthy.

• Carrots make a good source for vitamin A which promotes good vision, healthy growth and functional immune system.

• It has vitamin K1 or phylloquinone. It promotes good bone health and helps in blood coagulation.

• It includes biotine, which is a B vitamin. It helps in protein and fat metabolism. Carrots also has B6 vitamin which generates energy from food.

• It contains important mineral, potassium. It helps in controlling blood pressure.

• Carrots include many key plant compounds such as carotenoids. These are excellent antioxidants which help in improving immunity. Other major plant compounds include beta carotene, alpha carotene, lutein, lycopene, anthocyanins and polyacetylenes.

Health benefits of carrots:

If you are a raw carrots fan then get organic fresh carrots from the market as it includes more beta carotene and less use of pesticides. Contacting organic fresh carrot exporters and suppliers in town will make the purpose served.

• Lowers risks of cancer – it is scientifically proved that regular consumption of carrots can lower the chances for stomach, colon, breast and prostate cancer.

• Minimizes bad cholesterol – it helps in avoiding heart diseases by lowering bad cholesterol level in the bloodstream.

• Aids in weight loss – it is a low-calorie food and thus advances weight loss.

• Improves eye health – it is a rich source of vitamin A thus it stops chances for night-blindness.

If you want to achieve all the nutritive benefits of carrots, buy this root vegetable only from the fresh carrot suppliers in India.